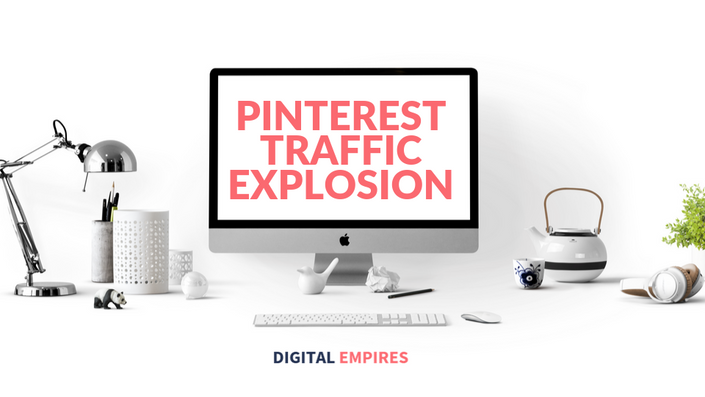 Pinterest Traffic Explosion
Turn your blog into a traffic-generating machine.
THIS COURSE IS CLOSED FOR ENROLMENT. DOORS WILL OPEN IN DEC 2020.
Do any of these statements feel familiar?
---
Have you started a blog or a website and can't find a way to bring in any traffic?

Are you burnt out from posting in 100 Facebook groups?
Do you feel like you're in a losing battle with Google?
Do you feel overwhelmed juggling between creating content, posting on social media and seeing no growth?
What if I told you that you could..
---
Drive THOUSANDS of new visitors to your blog for FREE
Spend LESS time on generating traffic and MORE time creating content
Get hundreds of FANS to your blog every day on autopilot
Become an AUTHORITY in your niche in just a few months
Convert your blog into a profitable BUSINESS
I was where you are painfully watching my traffic crawl only to never go past 5K monthly views.
It felt like I was just wasting my weekends typing away ferociously on my laptop waiting for the inevitable to happen.
Trying and failing to explain to my friends how my blog was MORE than just a hobby.
And then one fine day this happened-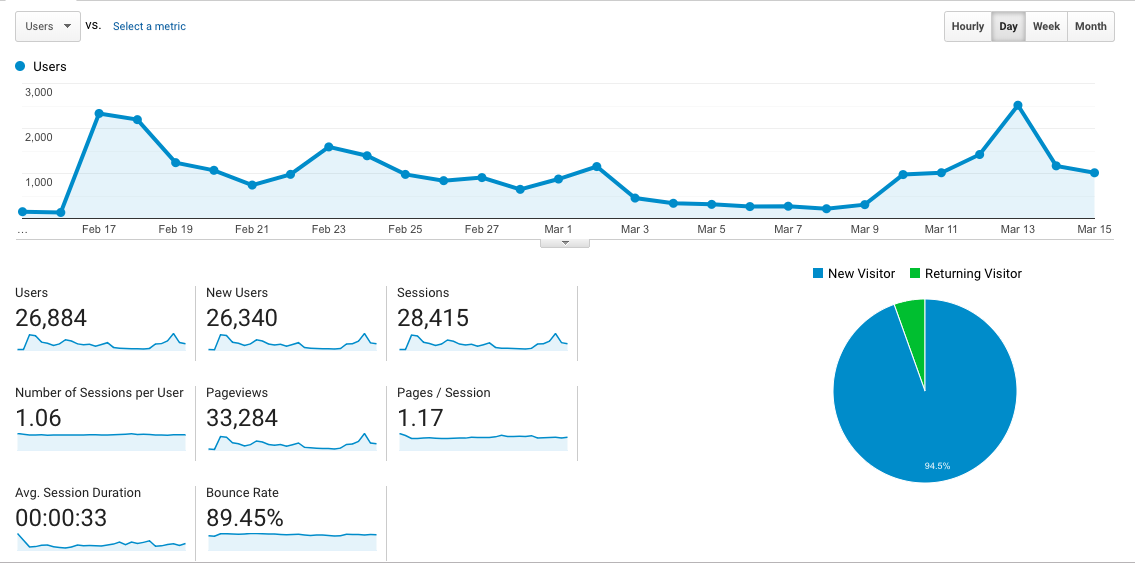 This wasn't a fluke.
Here's what happened when I applied unique Pinterest strategies to my blog-
- I went from 86 daily visitors to 1000+ daily visitors in 9 months.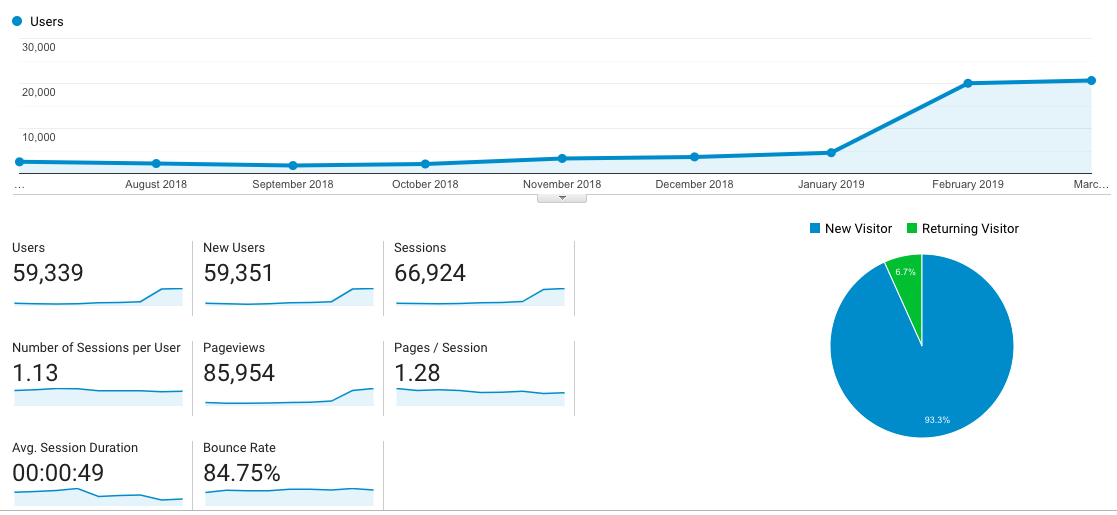 - My email subscribers and followers went from 32 to 16000+.
- I recovered my entire blogging investment and quit my job to blog full-time.
But first, let me tell you a little bit about myself.
You see, I didn't really start out in this niche. I didn't blog about blogging.
No, I actually started out with an expat blog. I ran that for one year until I outgrew it.
Last year, I switched to a brand new travel blog keeping in mind that I wanted it to be a business.
The fact that I have an MBA and over 5 years of experience building online businesses definitely helped.
I grew my baby blog from SCRATCH to over 170K page views spending 15h/week in less than one year!
And honestly, I couldn't have done it using the crappy strategies I was reading on the internet.
I didn't manifest this traffic or just create random content and wait for the magic to happen.
I took what I knew from my professional experience, refined it to my website's target audience and developed a method that would work no matter what type of content you were creating.
Here's how I grew my Pinterest account in less than 6 months-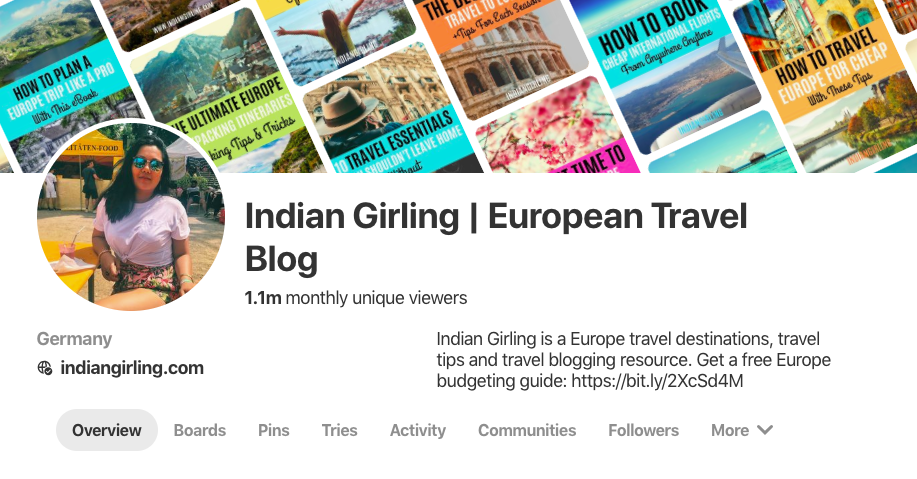 In all, I have over 4000+ followers but receive over 40K MONTHLY page views to my blog ONLY from Pinterest!
Here are some of my results using this method..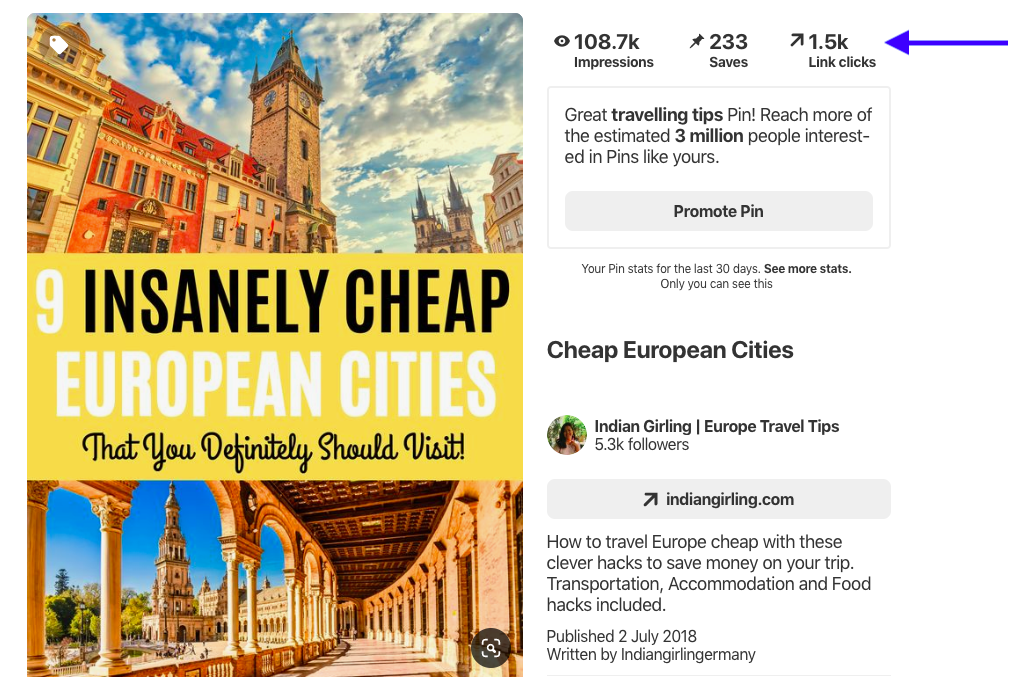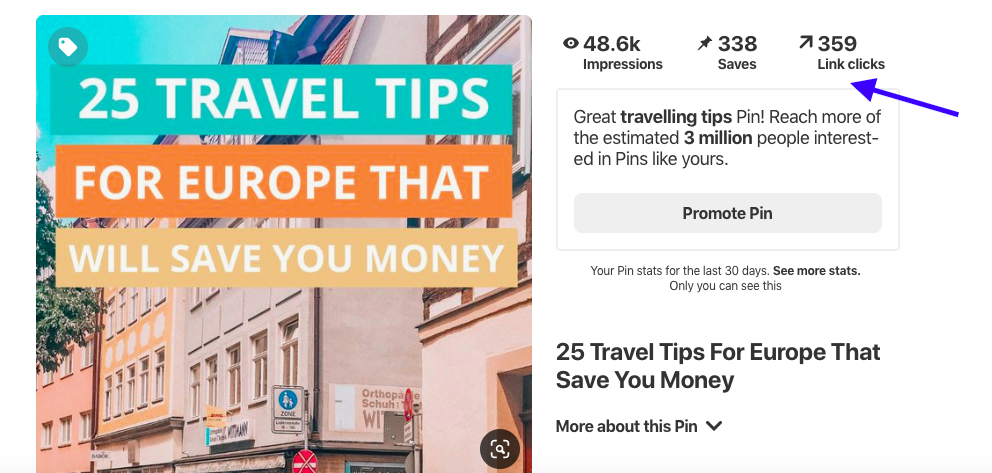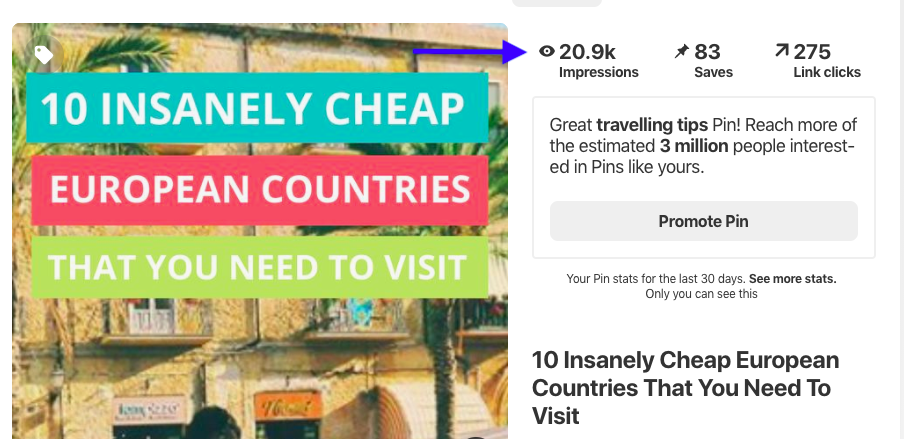 But this hasn't just worked for me.
Nicole Grew Her Traffic By 10X In 2 Weeks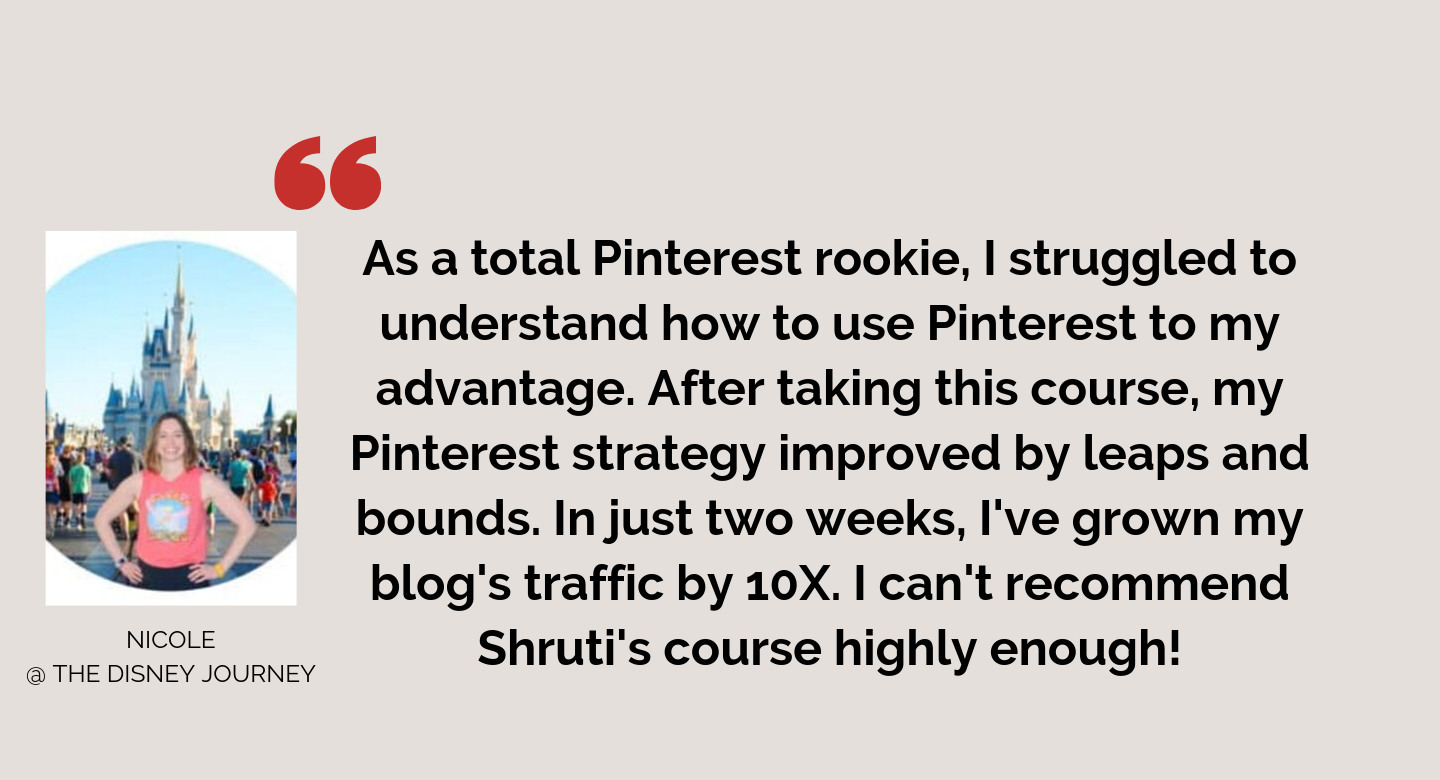 Take a minute and think about what that much traffic to your website would mean...
Imagine the amount of shares, likes and comments on each blog post
Imagine the number of email subscribers you can attract to whom you can pitch your next product
Imagine driving explosive traffic to your blog to help you make more money and move towards financial freedom
Introducing...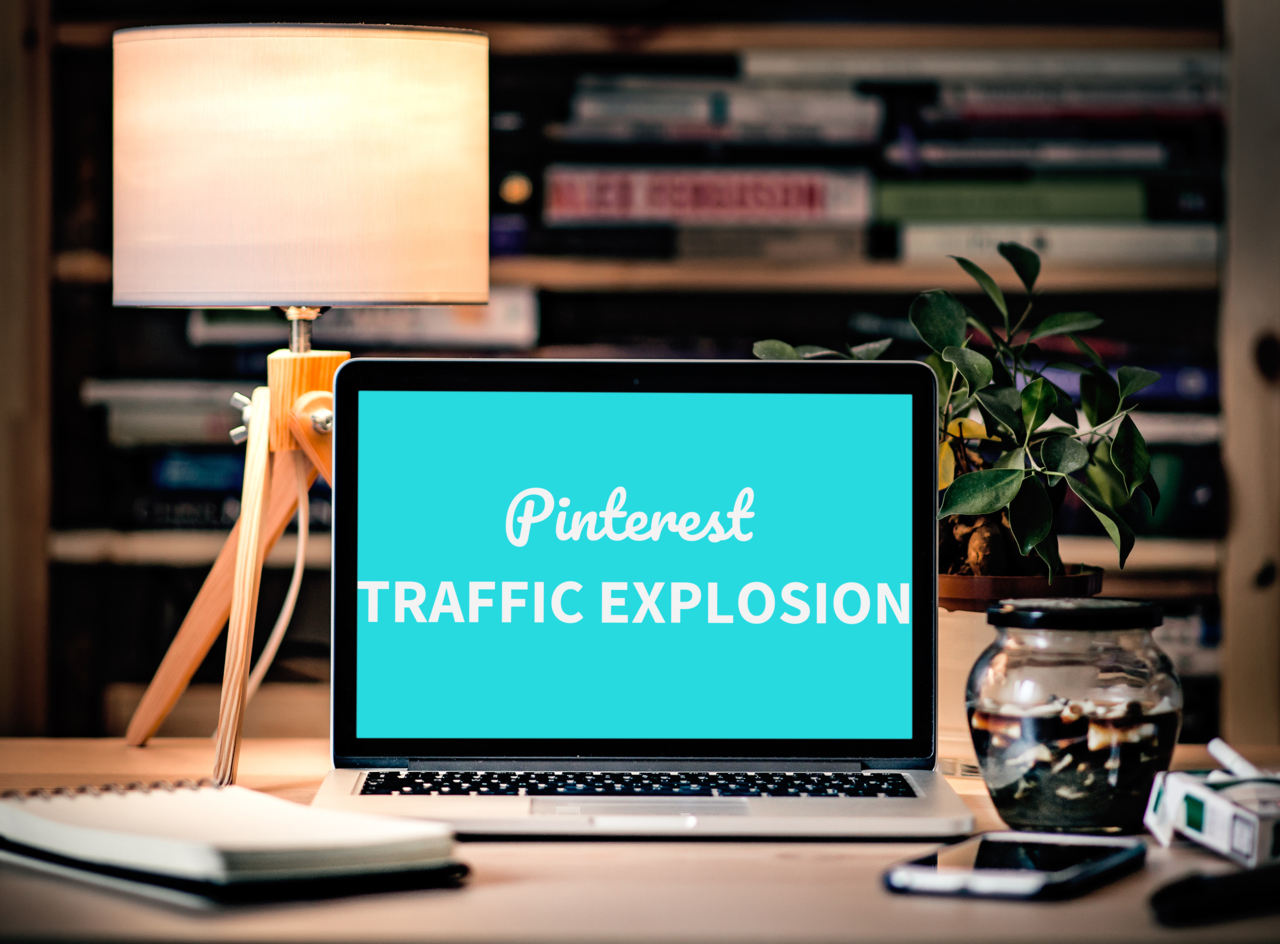 A Step-By-Step Solution To Explode Your Traffic Using Pinterest
And that's not all.
I've added 5 juicy BONUSES worth $680+ to help you SLAY your traffic goals!
---
Bonus #1: Free Tailwind 2 Months (value $30)
Bonus #2: 150 Group Boards List For All Niches (value $50)
Bonus #3: 20 Page Course Workbook (value $100)
Bonus #4: Private Support Group (value $500)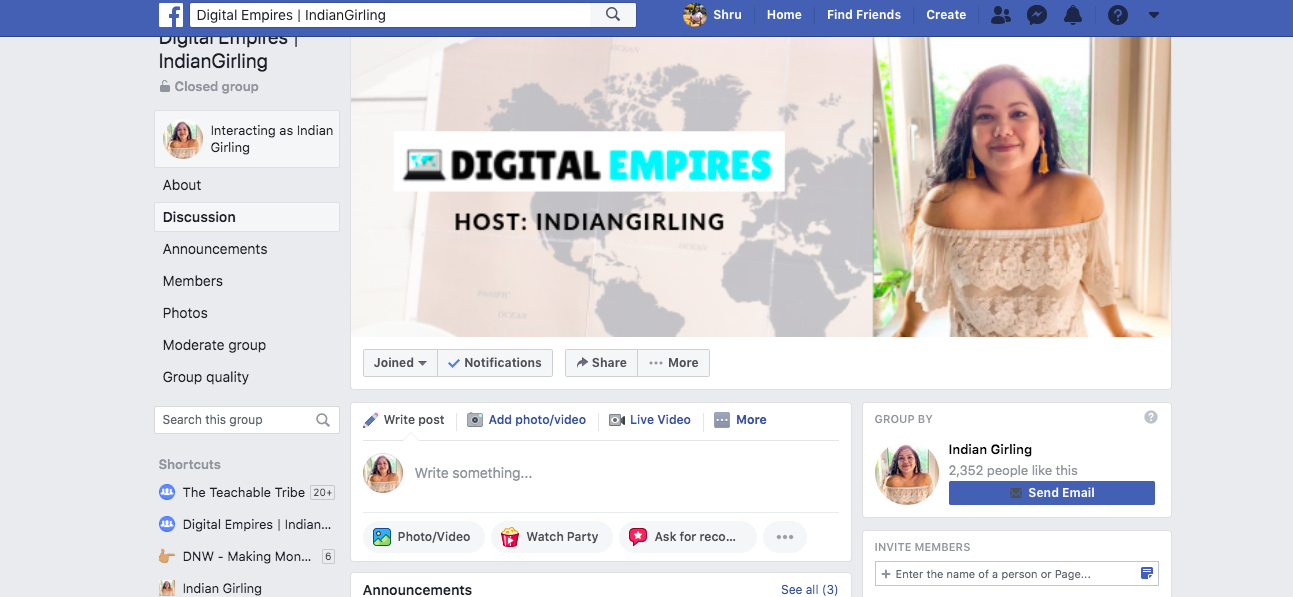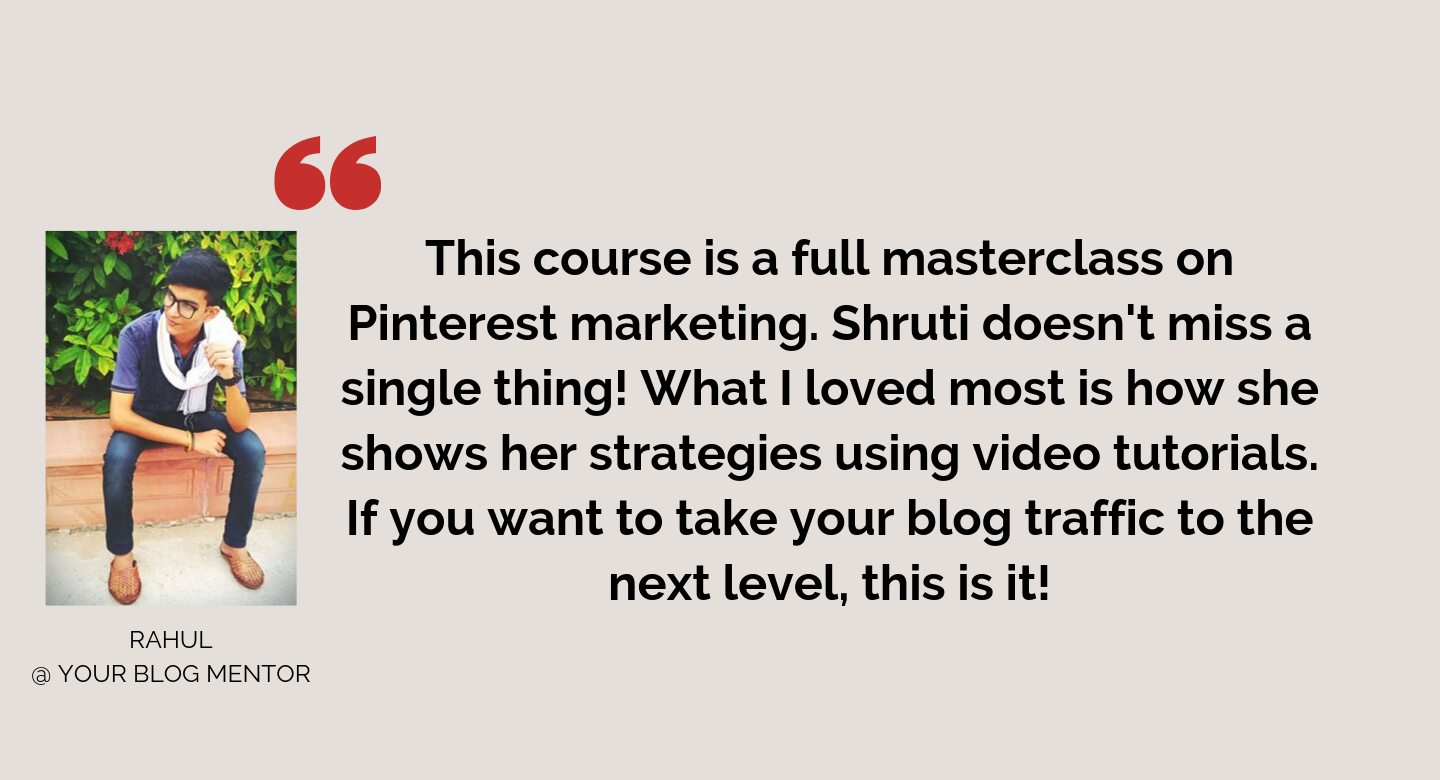 Course Curriculum
Welcome Module
Available in days
days after you enroll
MODULE 1: PINTEREST FOUNDATION
Available in days
days after you enroll
MODULE 2: CONTENT STRATEGY
Available in days
days after you enroll



Who is Pinterest Traffic Explosion for?
This course is perfect if...
You currently have a blog or have just started a blog and want to grow it FAST in a smart manner.

You want to learn about how to grow traffic from Pinterest the SMART way.

You've been blogging for a while but are not getting the results you want.

You're not afraid of doing the 'hard work' that it takes to create a successful blog.

You're sick of things moving slowly and really want to fast-track your traffic and income.
This course isn't going to be a good match if...
You want the answers but don't want to put in the actual work. If you don't want to put any time or money into your blog, this is not the right program for you.

You have not started a blog or a website yet.

You are just blogging for fun and have no intention of making any money or income with your blog.

You consider yourself an expert Pinterest user.

You are receiving over 10K monthly page views to your blog from Pinterest.
After taking this course you'll be able to...
Understand how Pinterest works as a platform and how you can master it for your niche

Know exactly how to create compelling content and pins that will bring you high-quality traffic

Give your Pinterest account a makeover to make sure you attract maximum visitors back to your blog

Be able to analyse and track your growth without being overwhelmed by analytics

Learn advanced Pinterest strategies to boost your blog's traffic

Automate your pins in a smart manner to free up time and become a more productive blogger
And get personal support every step of the way!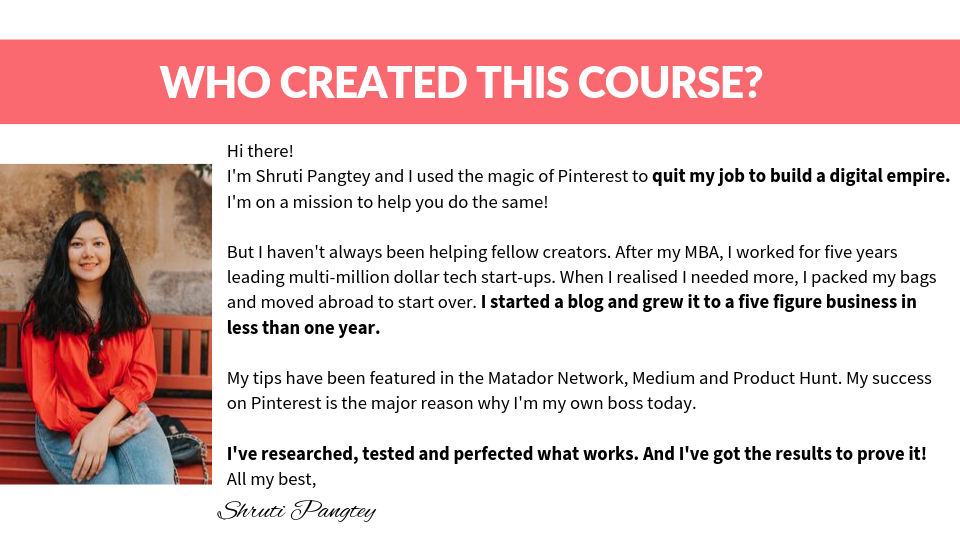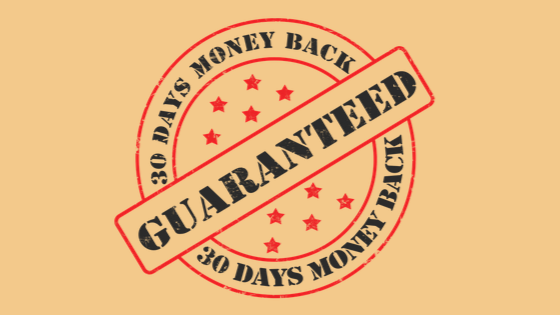 Frequently Asked Questions
How long do I have access to the course?
How does lifetime access sound? You will also have access to updated materials for a lifetime.
Are refunds available if I am not happy with this course?
Absolutely. If you go through the course, implement the strategies, and don't see any results, then you can email me within 30 days for a full refund. All I ask is that you provide evidence that you've put these methods into place with your blog and can show that they have not worked for you.
Do I need to have a blog to take this course?
YES. The course is based on the assumption that you have a blog that you can direct traffic to. You can also take the course if you plan to start a blog soon, although I would highly recommend that you already have one when you start this course.
How long will it take to see the results?
This depends on many factors. How many articles you have on your blog, how much time you spend in optimizing them, promoting them and how well you use the strategies outlined in the course. Building considerable traffic from Pinterest does not happen overnight. If you put in the work, you should see the results within 2-3 months.
Is this course right for me?
This course is most beneficial for bloggers or website owners who are currently receiving less than 10K monthly page views and are new to blogging and/or Pinterest.
What is the format of the course?
The course is a mix of audio lectures, text-based modules as well as video tutorials. There are also a ton of worksheets and checklists to help you easily implement what is taught in the course.
Is there a FB group available?
Yes, as a member of this course you have access to a private group where you can ask me questions , concerns or any doubts directly. I'm also easily reachable via email at
[email protected]
Will this only work for travel bloggers?
No. Although I am a travel blogger, I also blog about social media and digital marketing. The techniques outlined in this course are applicable for all bloggers no matter which niche you belong to.
This course is not open for enrollment.